Steam games can be really expensive. Even with sales going on, $100 can only get you a handful of triple-A games. The free to play section on Steam contains some great titles, but what if you desire to get more games? You might think that there is no way free games are actually being given out, well you'd be surprised!
---
A List Of The 12 Ways To Get Free Steam Games
---
Through Notification Channels / Groups
These social media channels are a great way to get notified when a free game deal appears! These are especially helpful if you can't be bothered to bookmark a ton of giveaway and free steam game sites. Keep in mind that most of the offer expires within a few days, so you might want to be on the lookout for them.
1) r/FreeGamesOnSteam On Reddit
Link:
Here, users and moderators alike post free steam game offers found. The site offers are usually on HumbleBundle, Steam, Gleam, and more. The subreddit has been established since early 2014 and has been active ever since. Each day, about 3-6 offers get posted.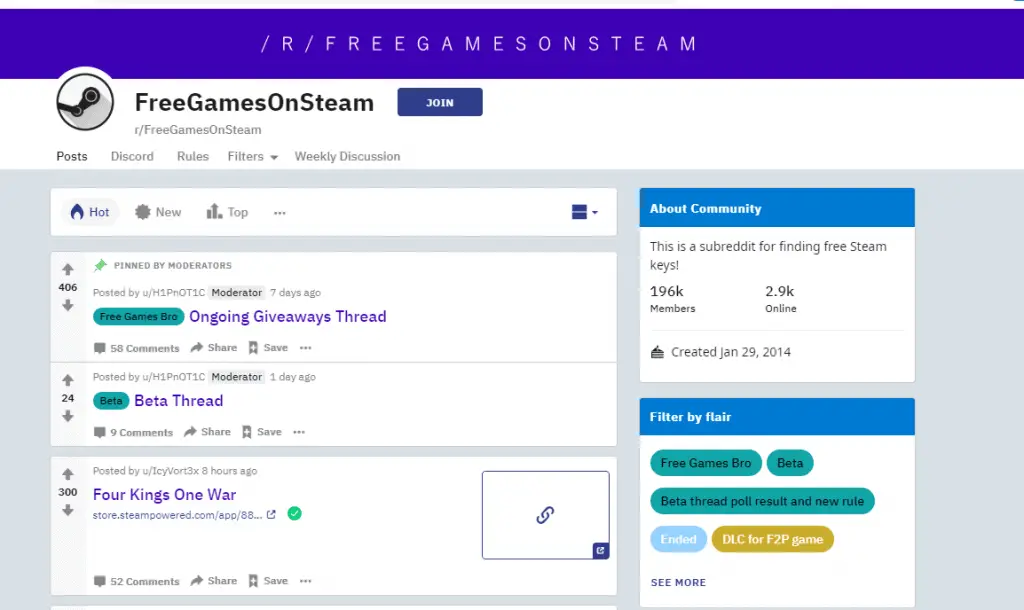 All types of games are posted here, from triple-A to indie titles.
2) @SteamGamesPC On Twitter
Link:
The Twitter channel has been running since late 2015 and has been posting/retweeting daily. There are mainly Steam games that are free to play for a limited time being posted here, and most of the games posted here are of a higher quality. Something to note is that only a few Steam keys giveaways are being posted here. In other words, the games posted here can only be played for a limited time for free.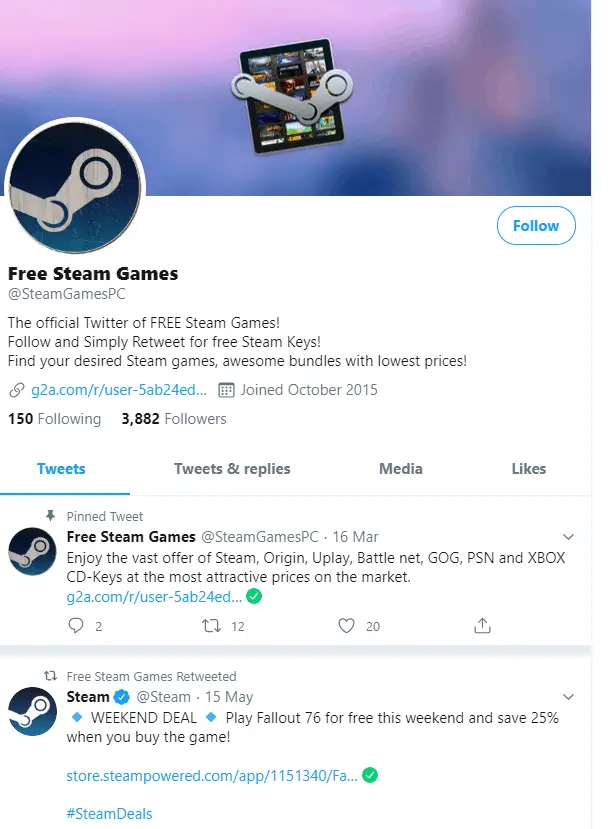 3) GamingTaylor On Youtube
Link:
This Youtube channel is for users who have a little extra to spend on games. Daily deals are being posted here, and occasionally some free Steam games as well.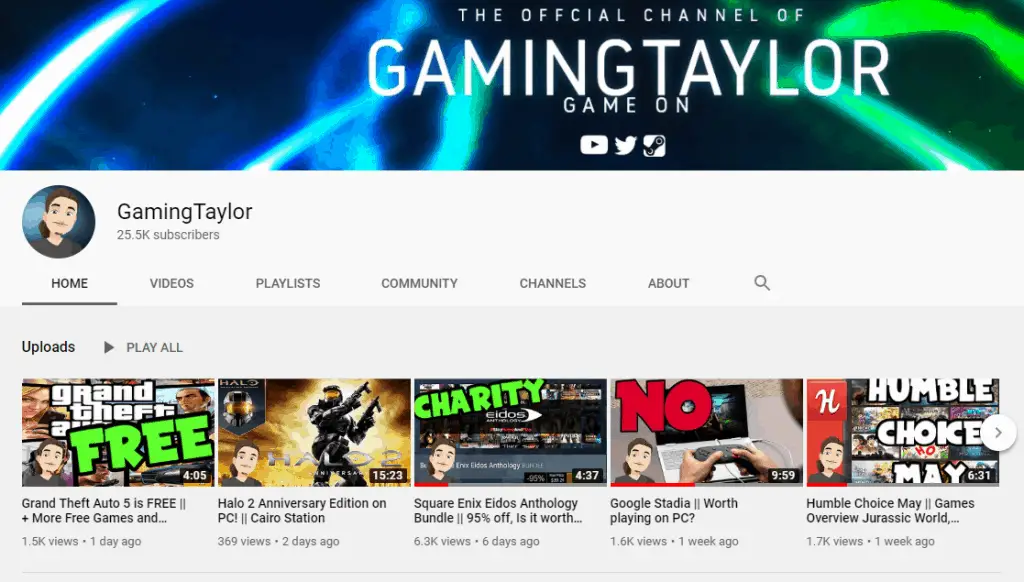 ---
Sites To Scour
Here is a list of sites you'll want to bookmark. Most of these deals would have been posted on the aforementioned social channels, but you might still want to check up on them, from time to time.
Note that some of these sites promote free games on other platforms besides Steam, so you might have to install another platform to play the games.
(I have personally verified that all these sites are working and included proof of the keys/downloads given, unless it was a raffle site)
1) AlienwareArena Giveaways
Link:
The game offers posted here are typically much better. They range from Steam keys to Itch.io keys, and some of them require you to go to an external platform to download the game, while some free deals are DLC.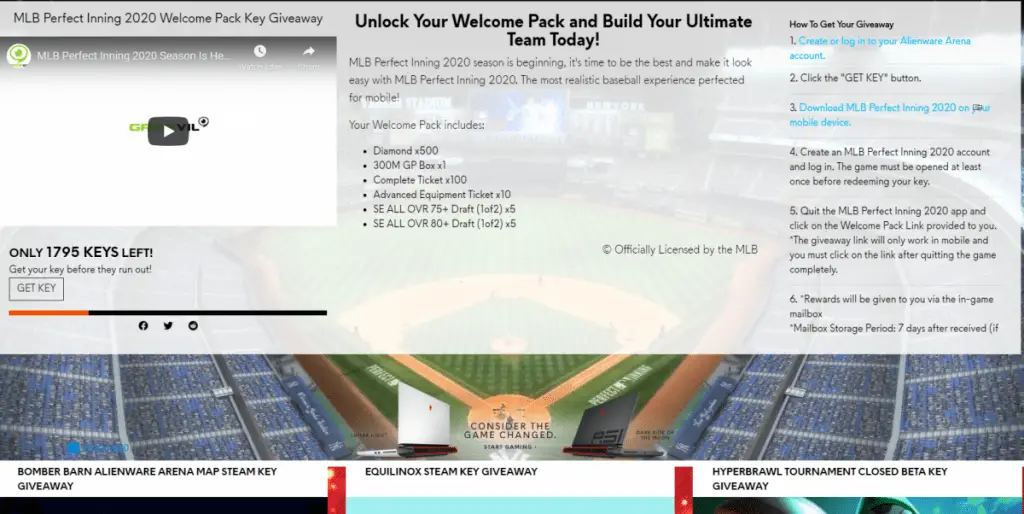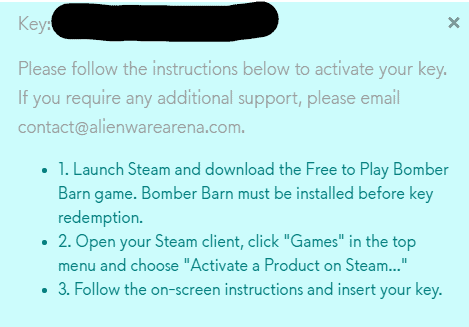 Some of the giveaways here require you to be of a certain level. To level up, you'll need to gain what is known as ARP (Arena Rewards Points).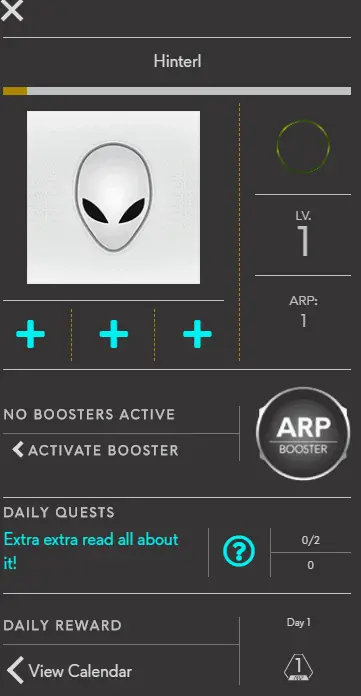 The amount of ARP you currently have can be viewed by clicking on the top-right icon after creating an account.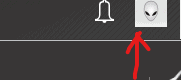 More on ARP & how to get more of it here. But essentially, you'll need login daily which you can view by clicking on view calendar under daily reward. (if you can't see the calendar, you might need to scroll up)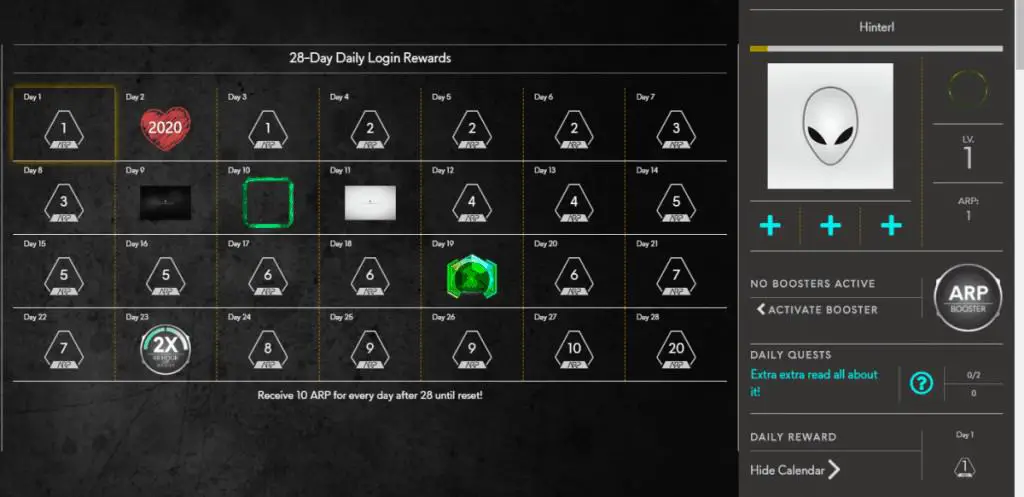 Another way of leveling up is by interacting with the community – through upvoting posts and creating your own. But ensure that your posts & comments don't come off as spam as that will result in a loss of ARP.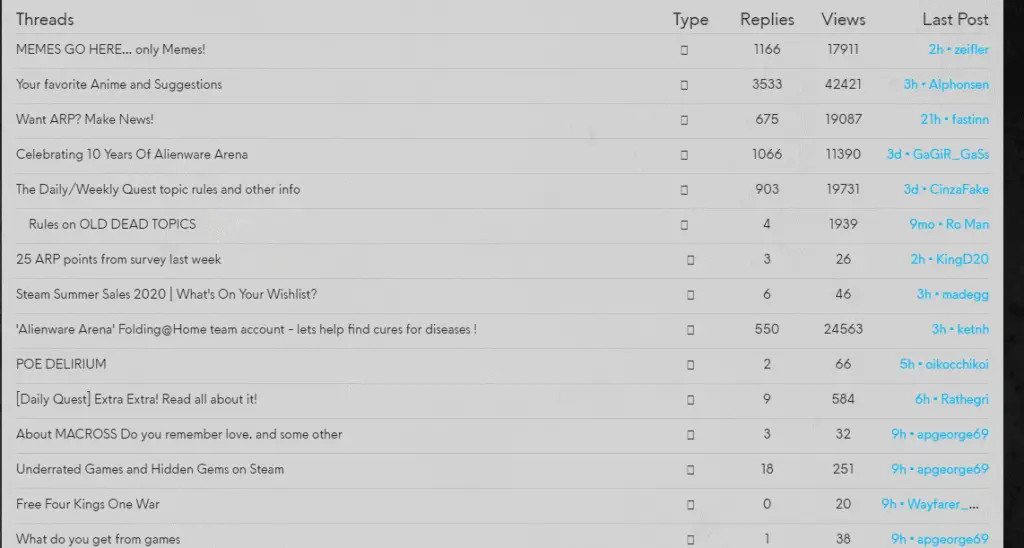 2) FreeSteamKeys
Links:
FreeSteamKeys posts games that are free to play on the Steam store for a limited time, as well as Steam keys.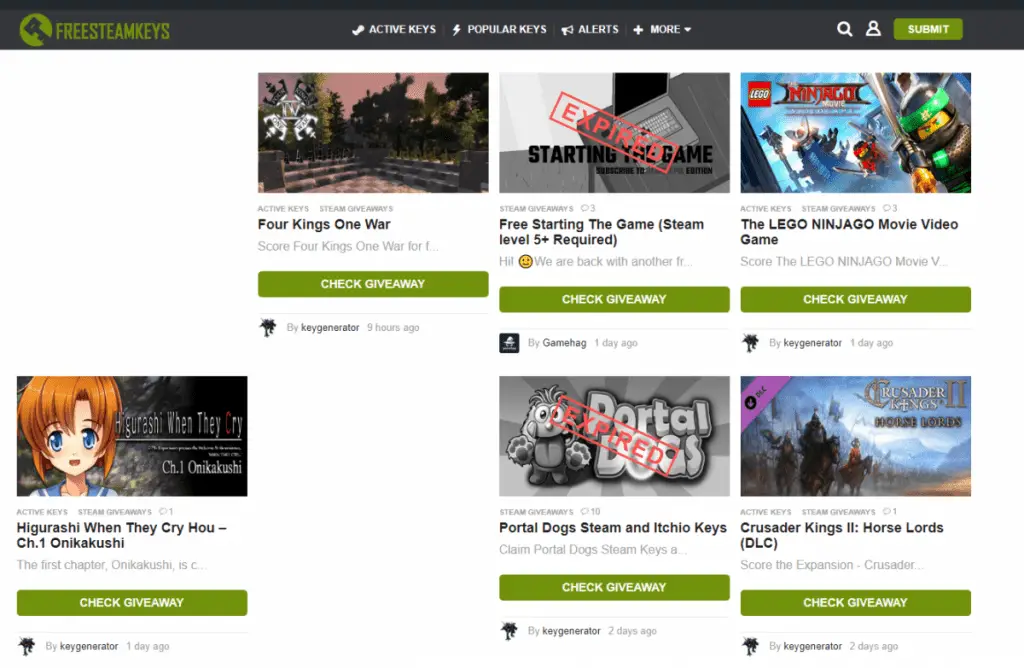 They range in quality, some being DLC, and while others being games that are in beta and the developer wanted some feedback. And occasionally you'll stumble upon several well-reviewed titles.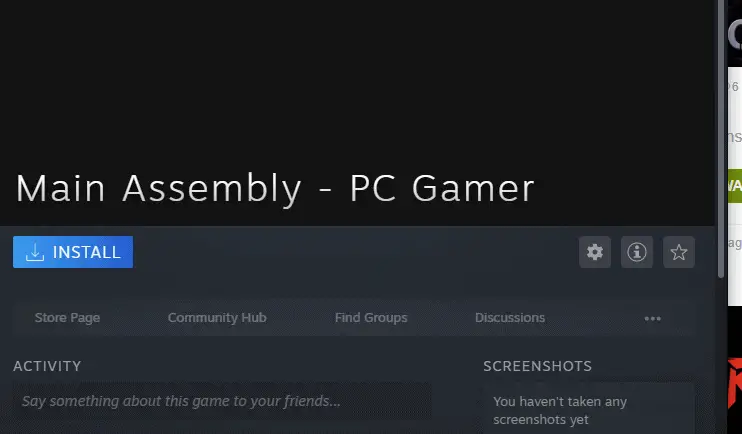 This website is one of my favorites! They don't require you to sing up, and only one or two of the giveaways require you to be of a certain Steam level.
3) IndieGala
Links:
IndieGala is well known for selling cheap and enjoyable indie games. There are two ways to get free games from here.

One is by going to freebies.indiegala.com, there you can redeem free games, then go to your library>showcase and download the games according to your platform. (There aren't any Steam keys here, it'll just be the download for the game.)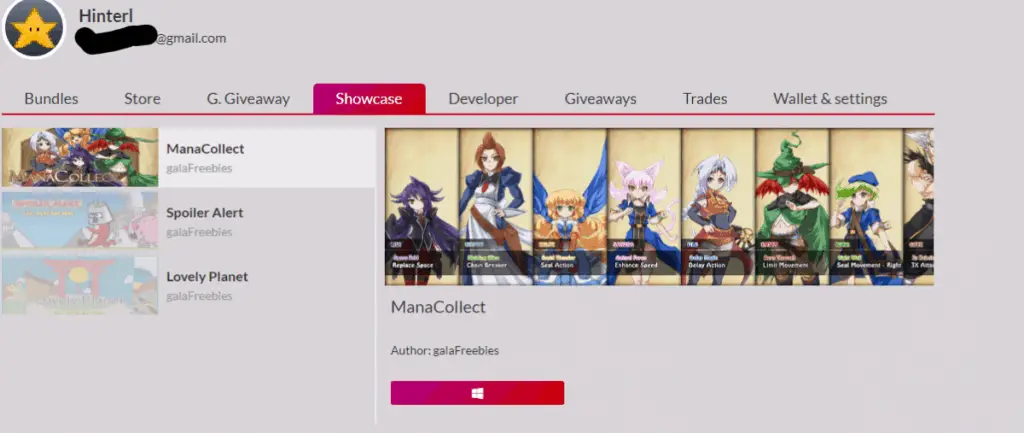 But if you want free steam keys, you'll need to enter into IndieGala giveaways. There are a bunch of giveaways you can participate in. (Note: You can go to the giveaway section by going to community>giveaways from the homepage or by using the link: indiegala.com/giveaways)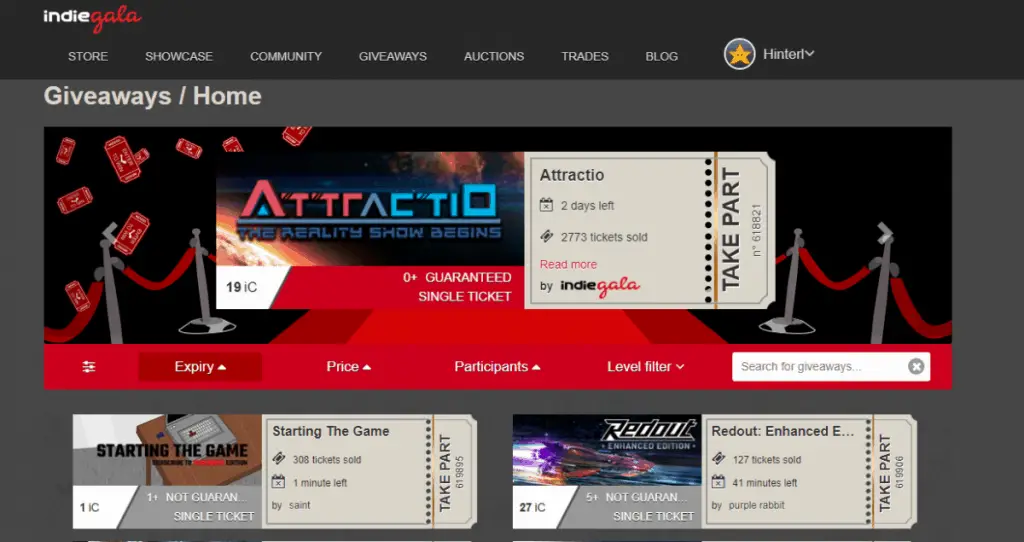 You participate according to your IndieGala level, which you can level up by hosting giveaways. Even as a level 0 you can still participate in some giveaways.
When entering a giveaway, you'll need to have a certain amount of GalaSilver, which can be attained by waiting. As explained on this official document, you'll receive 10 silver coins every hour, giving you 240 per day, and 240 coins is the maximum. So I suggest going back and entering into a few giveaways once every while, and maybe host a few giveaways to level up as well.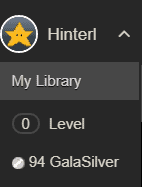 Your chances of winning are highly unlikely, especially at a lower level. One way of increasing the probability is by using the filter "participants" and ensure that the arrow points up to signify that it is sorted according to lower participants. (Tickets sold refers to the amount of current participants)

From, there enter into giveaways that suit your liking and you might even win one!
4) SteamGifts
Link:
SteamGifts requires you to get a $100 account value before you'll be able to participate in the giveaways. The best way to reach this $100 value is by going through the social channels above and finding free steam keys to redeem. You can use a Steam calculator to find out your account value or just try to login to SteamGifts when you think you've reached the $100 minimum.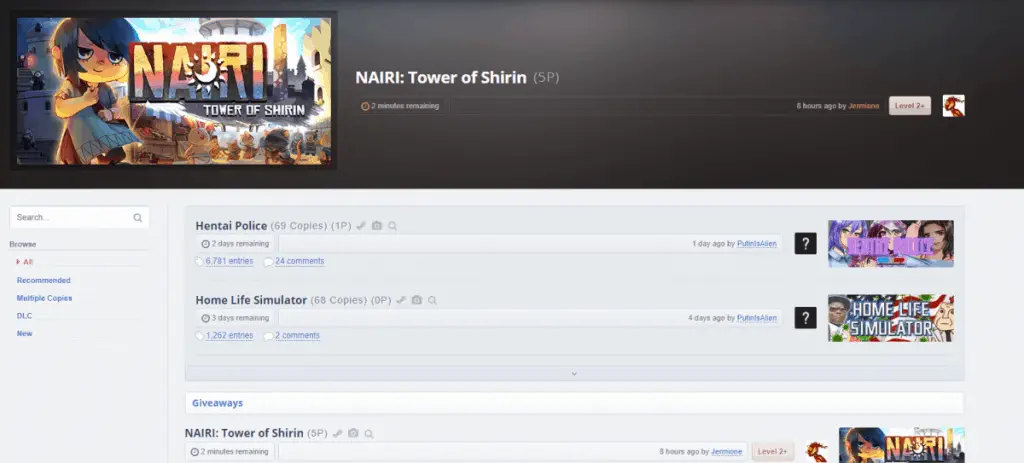 The currency used in the site is points displayed as "P". To gain more points you simply need to wait for more users to create giveaways which, in turn, gives everyone points according to the value of the game they are giving away. Each user starts at 25 points as well.
5) FreeToGame
Link:
FreeToGame occasionally has Steam keys giveaways, but most of the time, the free games links out to external gaming platforms.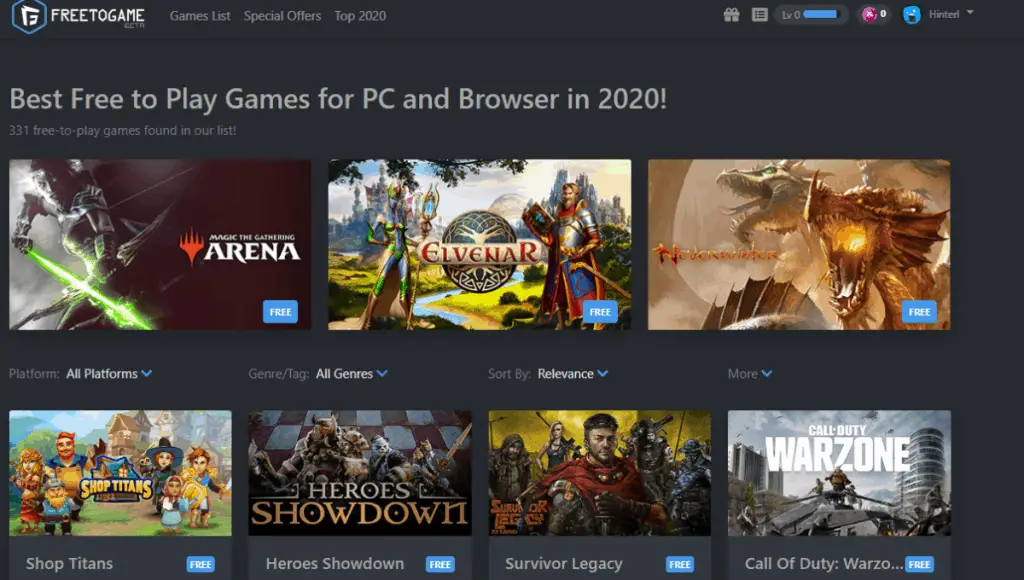 For keys, you'll need to go to special offers, where you can claim keys. Most of the keys here are for external platforms as well.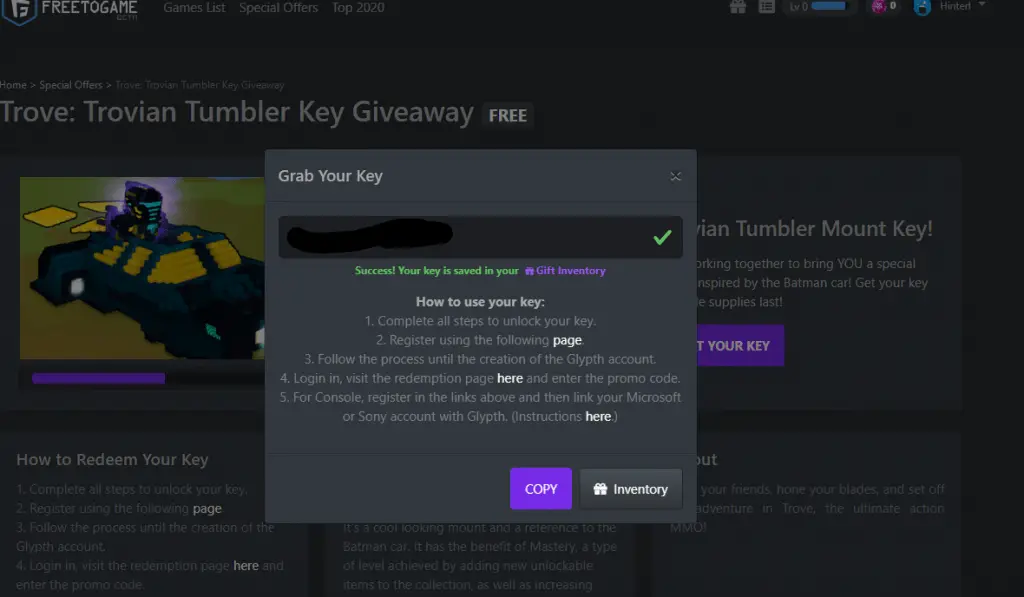 There is a huge variety of games here with all types of genres, but going to platforms besides Steam might not be worth it for many.
6) Humble Bundle
Link:
Humble Bundle doesn't have a free to play section, but they frequently have Humble Freebies which can be found through the Humble Store, but it's better to just stay updated through the above-mentioned social channels to make it easier.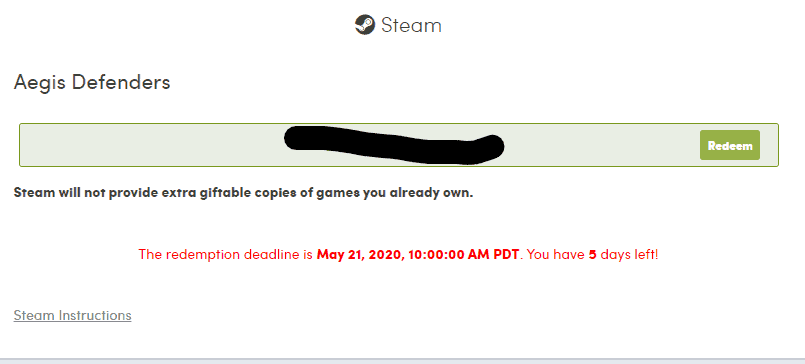 ---
Other Platforms To Check Out
The platforms listed here offer free games from time to time, some, such as the Epic Game store don't provide keys for the Steam store, but occasionally provide free games on their own platform.
1) Uplay/Ubisoft
Link: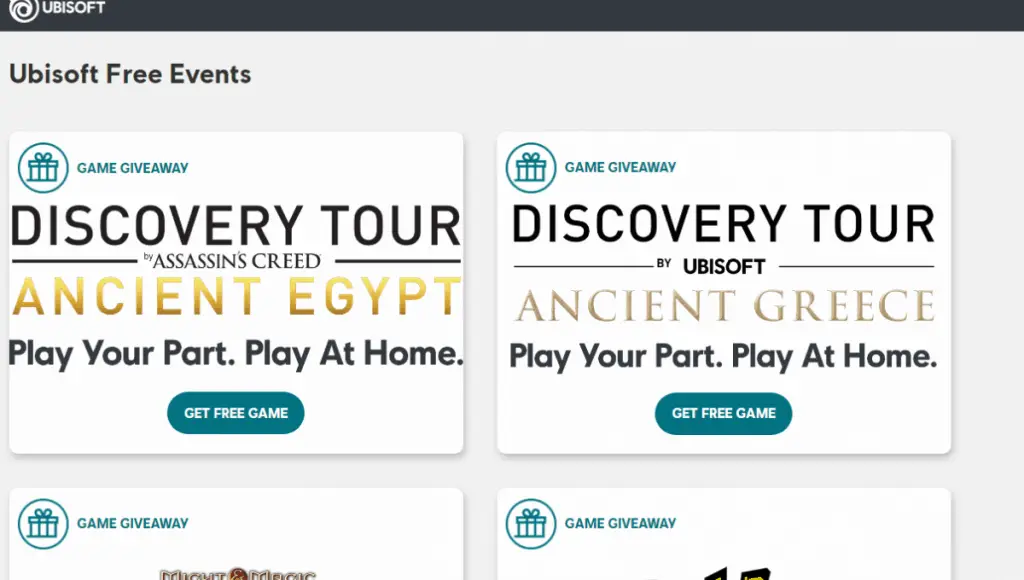 There are some awesome free game trials you can get on free.ubisoft.com, the games here are trials, as well as giveaways. But does come with the caveat that they can only be played on the Uplay launcher.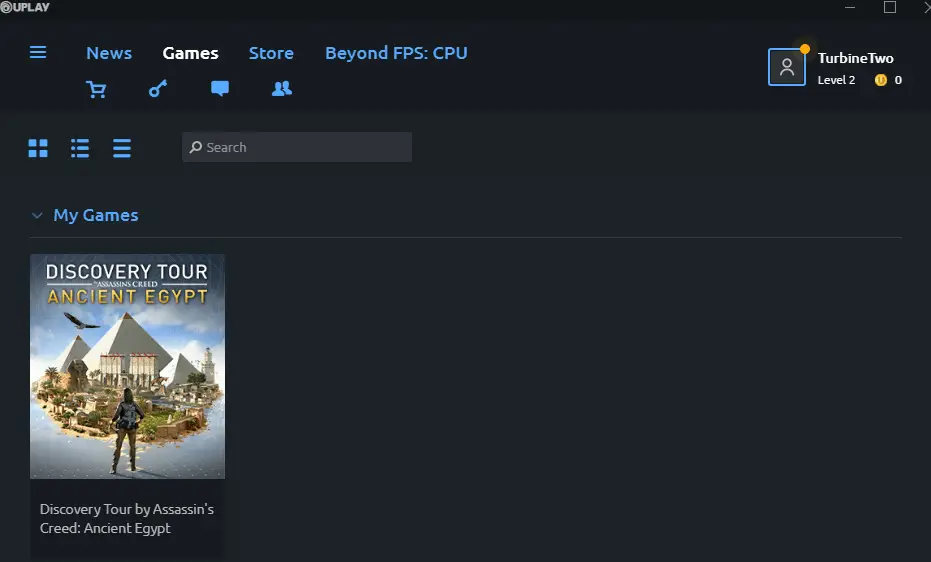 2) Epic Games
Link:
Epic Games introduced the epic vault, which opens every Thursday at 11 am eastern and allows you to keep a free copy of the game.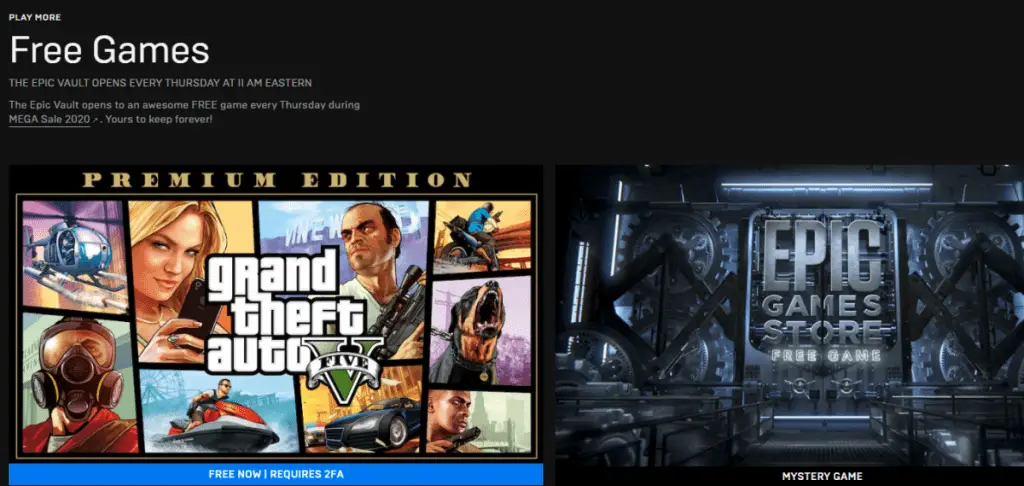 The games here have been known to be of high quality, and being able to keep them is a huge bonus!
I highly recommend you open an account and check it out every week. As an example, this week's free game is Grand Theft Auto 5, which is one of the best selling games of all time.
Epic Games has long been attempting to draw the attention of gamers over to their platform, and the epic vault has been one of those attempts, and nobody is complaining!
3) Origin
Link:
Right now the Origin free to play section doesn't contain have much, but a few might occasionally pop up so you might want to bookmark it.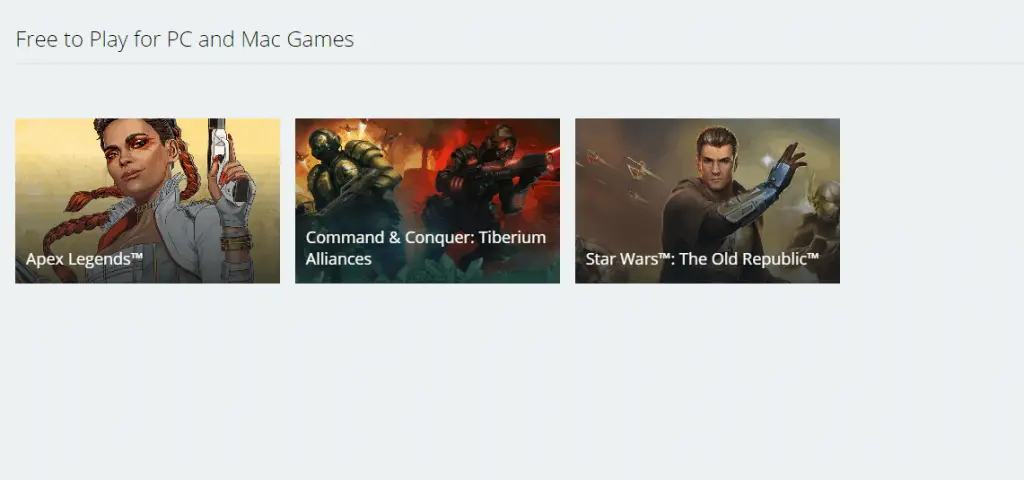 Scams To Lookout For
Likewise, with anything on the internet, Steam keys have been a popular way for scammers to get ahold of Steam accounts. As a general rule of thumb, if you're asked to enter any confidential details such as your password, you might want to stay away. Keep in mind that some of these giveaway websites might ask you to login to your Steam account through the Steam API, this is the method that SteamGifts utilizes.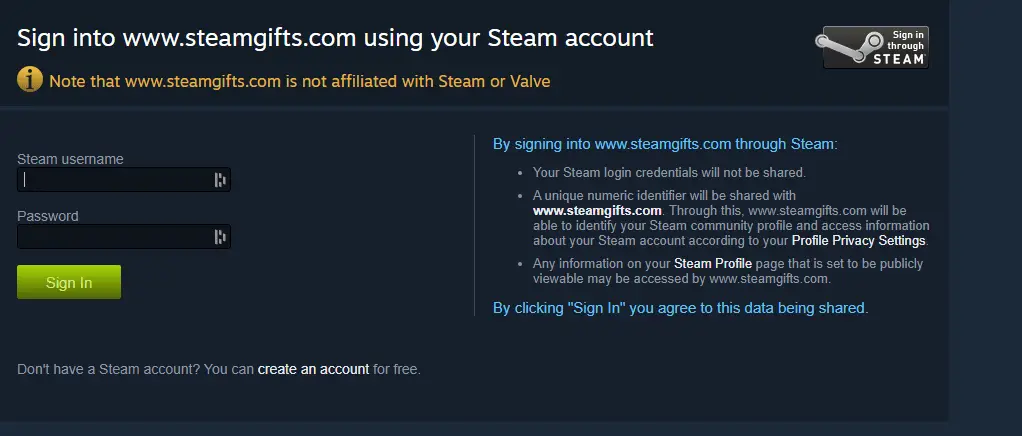 But, I highly recommend you login through the Steam website itself first, then go over to the site that needs you to connect with Steam. This method ensures you won't need to enter your login details on any website.

To verify that you're going through the correct Steam API and not on some scam site, you should look at the domain and ensure that it reads: "steamcommunity.com", and that it has the "green padlock" next to the URL otherwise known as an SSL certificate. 

If you found a website that promises free Steam keys, you should firstly check out reviews for that site, by typing it into Google and entering in review next to it.
If you can't find any results, you might want to try asking on the Steam subreddit, or on the Steam forums.
Even if the sketchy site doesn't ask for confidential information, there might still be risks involved when visiting the website. I'm not a cybersecurity expert, so I recommend you check out this article about Safe Internet Usage from GetSafeOnline.org.
How To Redeem Steam Keys
Now that you've got your hands on some free Steam keys, its time to redeem em'!
Firstly, you'll need to install the Steam launcher; I'm unsure if you can redeem a Steam Key through the website, and there doesn't seem to be a button on Steam's website for redeeming keys.
You can install Steam here, or by clicking the install button on the far right-hand corner of the Steam website.
Next, click on the "Add Game" button on the far bottom left-hand corner.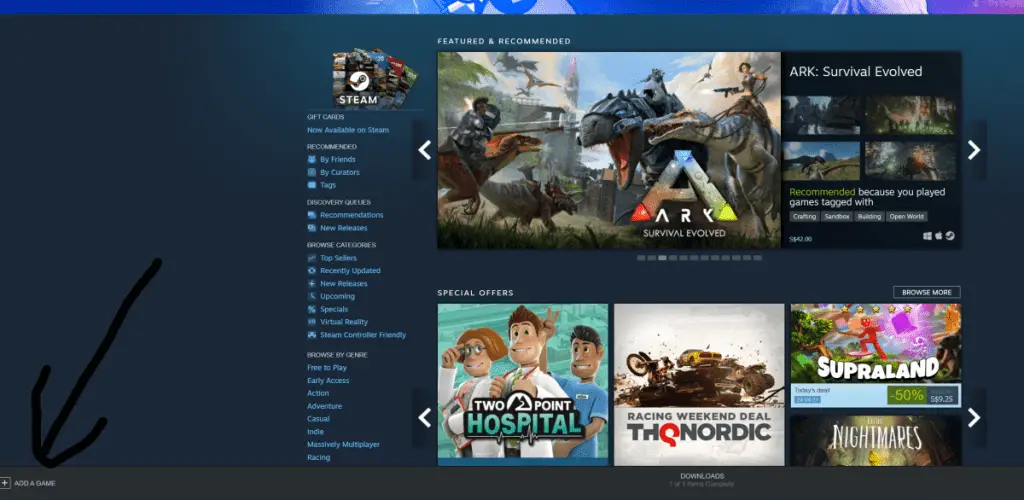 After that, click "Activate A Product On Steam".

This will pop a window for you to enter in your Steam key.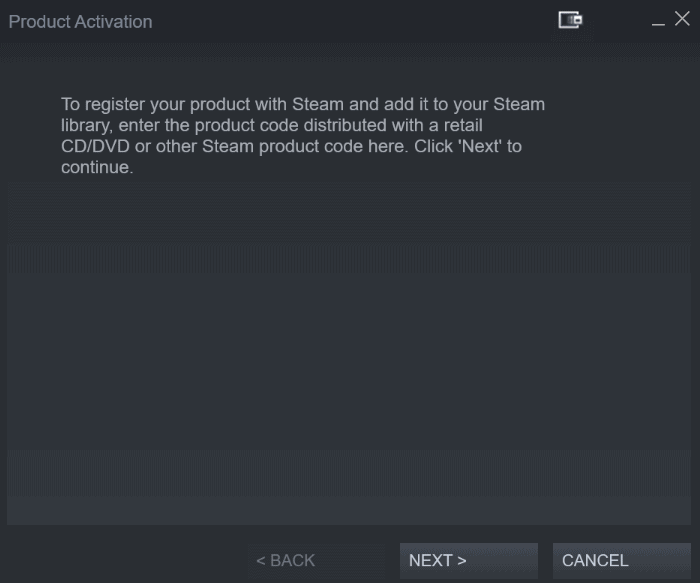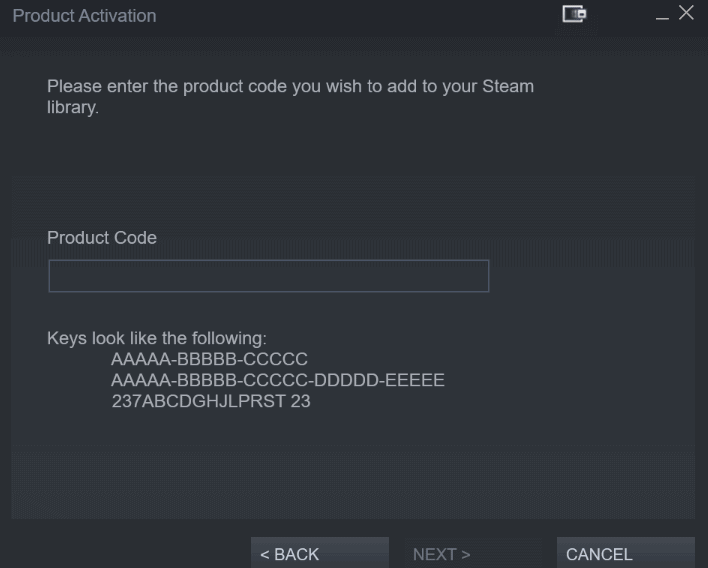 Once entered successfully, you'll be prompted to download the game. You can verify you've gotten the correct game by going to your Steam library.
Bottom Line
For those that don't have much time to browse all the websites every day, I recommend just checking out the social channels as mentioned above for a few minutes per day to not miss out on any deals. But if you have more time, you might want to participate in giveaways and maybe even host one yourself. 
Whatever it is, remember to stay away from sketchy websites, and don't give out your login credentials unless you're 100% sure you're logging in through the Steam API.
If you're unsure if a website is legit, or if you need help with this topic, you can comment down below, or contact me. You find me at roy@valorvortech.com, or through the contact form!