Andromo has been well known as an app maker, and seems to be a fun way to spend a couple of hours, and maybe even earn some money. There have been many who claim that it is one of the best app makers out there. But is it really as good as what others say? Let's find out!
My Personal Andromo Review

1) Andromo First Impressions
Signing up for the app maker was rather easy, and it includes a free 7-day trial that doesn't require any payment inputs as well. I recommend clicking the easy start button which gives you some pre-built themes to start off from.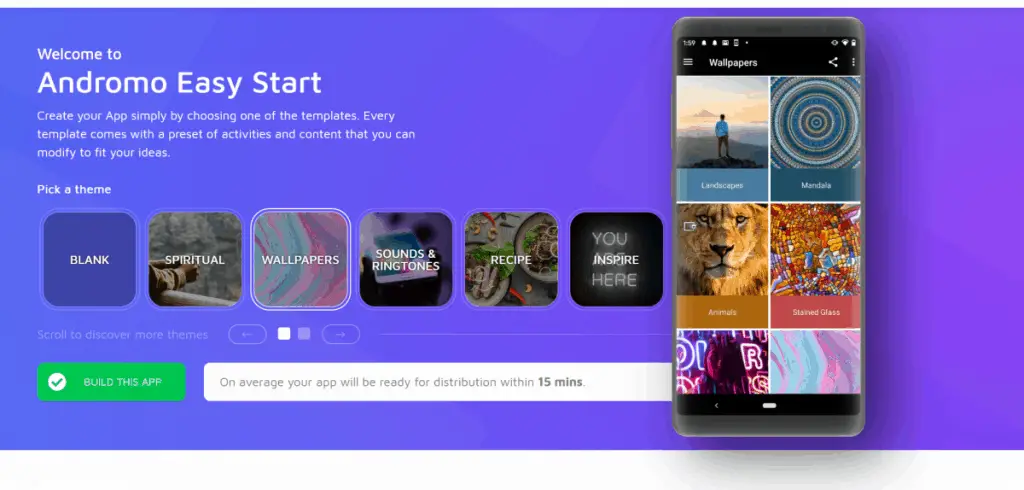 Once you've selected a theme or blank template, it displays a text tutorial, but it really isn't required as the interface is self-explanatory. If you require further help, Andromo has support through their forums, email, and knowledge database.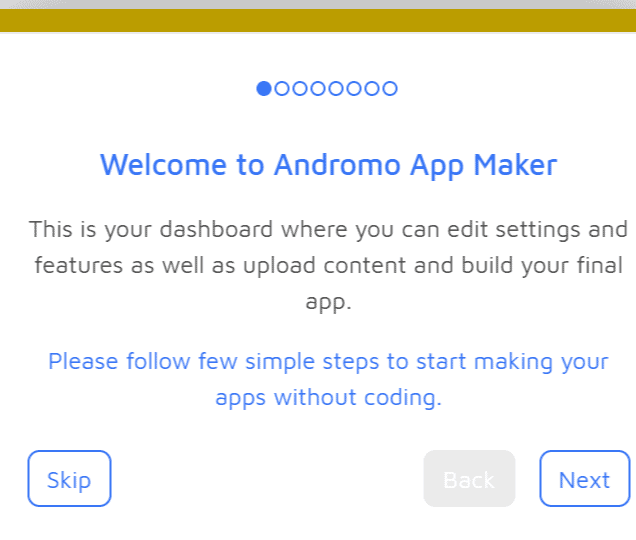 For this test, I wanted to create a simple app for this blog. I included a post page, about page, a gallery, as well as a contact page. The time it took to built this app was only about 30 minutes, as I already had the content, and there wasn't much customization required.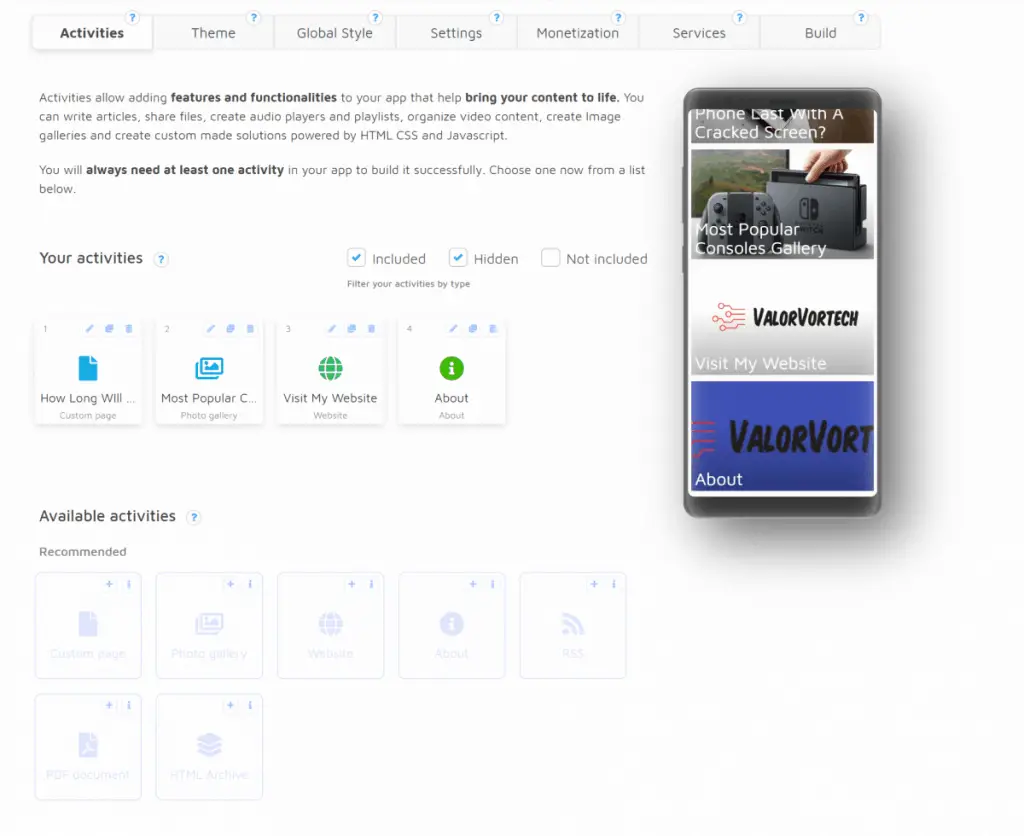 2) Andromo's Homepage
The homepage is simplistic and easy to navigate; it showcases all your current projects, with access to video tutorials on the sidebar. You can also view quick stats, such as app size, and more from here.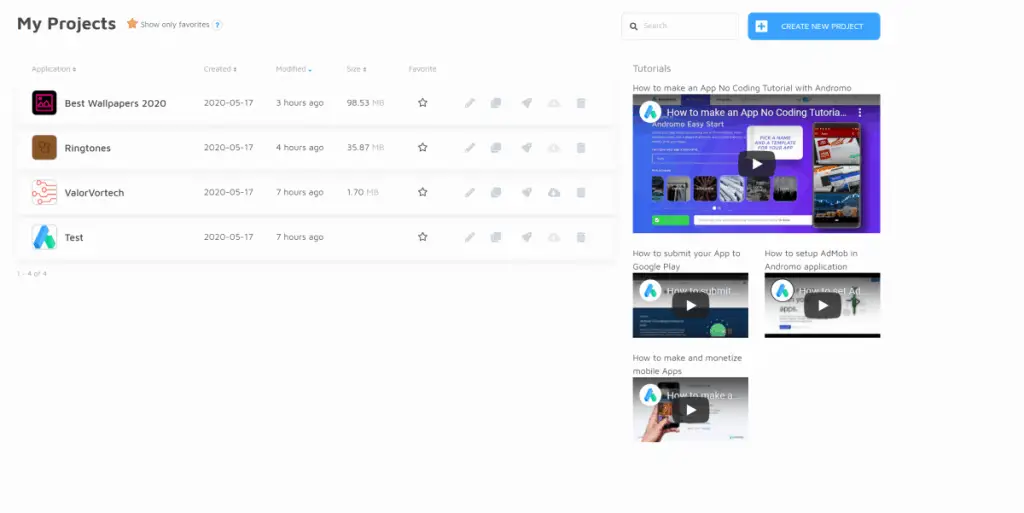 From here, it is also easy to create a new project through the new project button or easy start button.
The easy start button gives you templates to choose from pre-built ones, while the new project button gives you a blank template to work from.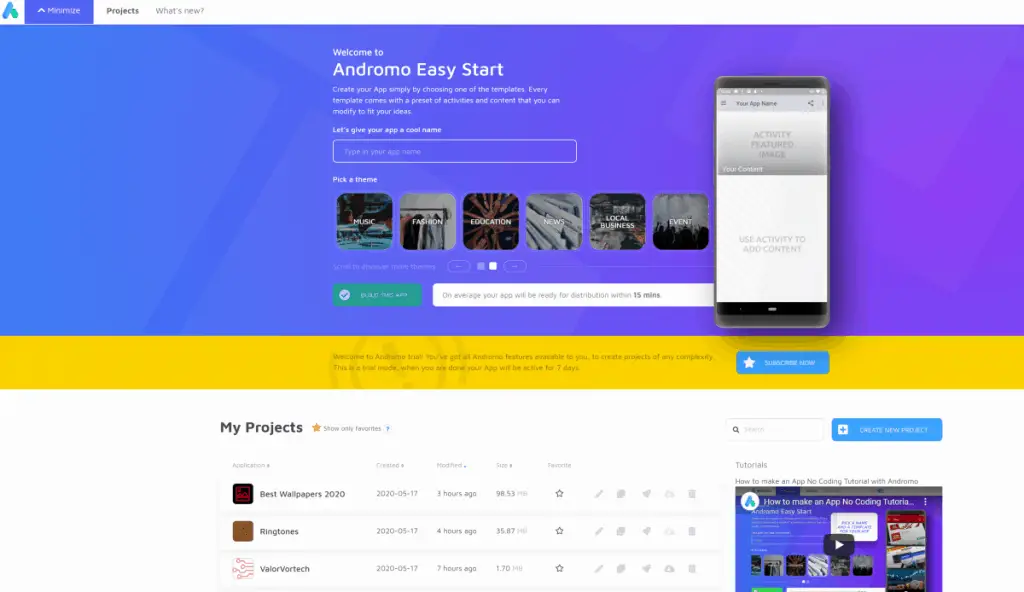 3) Andromo's Interface
The interface is divided into the following 7 sections:

Activities – To place blocks into the app (Main section for building the app)
Theme – To configure your app's style, images, and more.
Global Style – To configure global colors, images, and more.
Settings – To setup basic app information, such as your app's name, icon, license agreement, and more.
Monetization – Everyone's favorite part! Andromo allows you to place ads from a plethora of networks, but in the free version, you can't do so. In fact, Andromo places ads for you in the free version, but you don't get to keep the income.
Services – Here you can set up your analytics
Build – once you have fully configured your app you can click "build" here and get the download.
I will only be reviewing and discussing the "activities" section and touch a little on the rest, as most of the work you'll be doing will be in the activities section, and the rest are mostly when you have a user base and for monetizing your app.
4) Andromo's Usability
As explained by Andromo, the activities section is for adding features and functionality to your app, that helps bring your content to live. 

There essentially are 19 blocks to choose from. To place them into your app, you just need to click on them.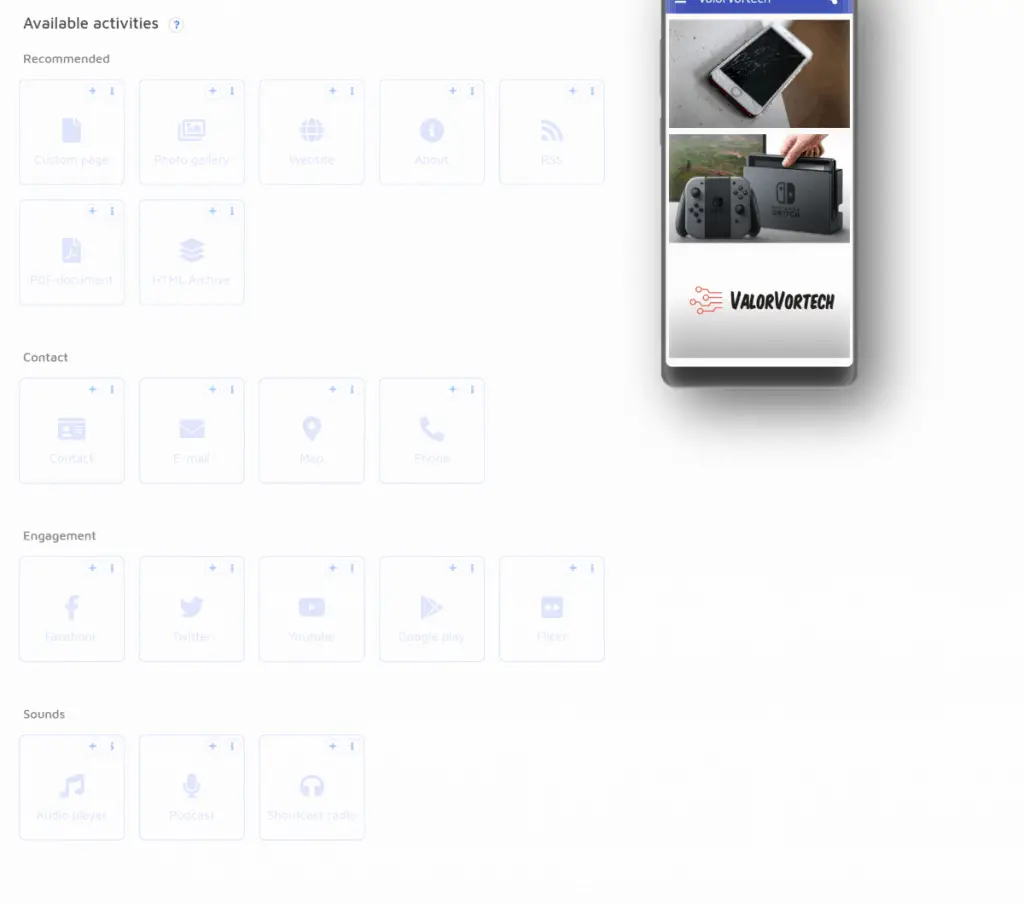 If you wish to change the layout of these blocks, it can be done by going to the theme>layout, where you can choose from "select by appearance", where a menu opens up to select from a huge selection of layouts,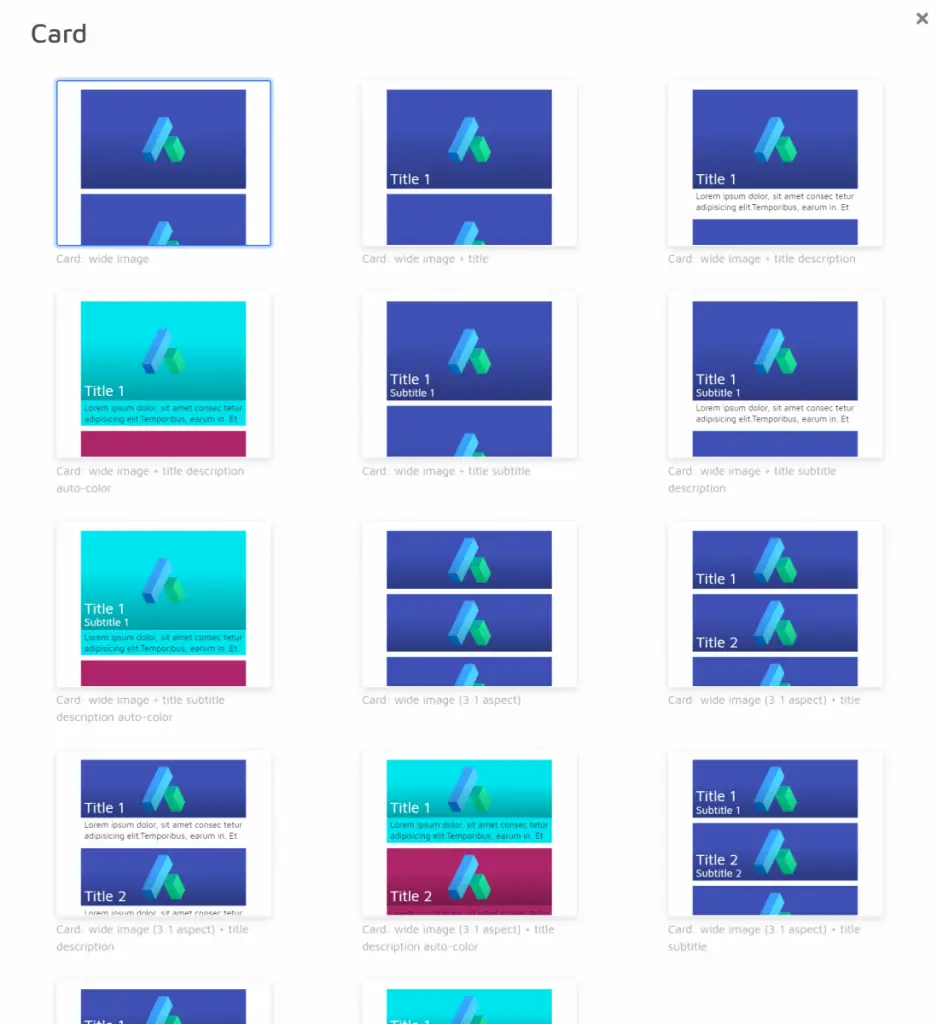 Or you can select from the 4 different layouts:
Card
Grid
List
List With Icons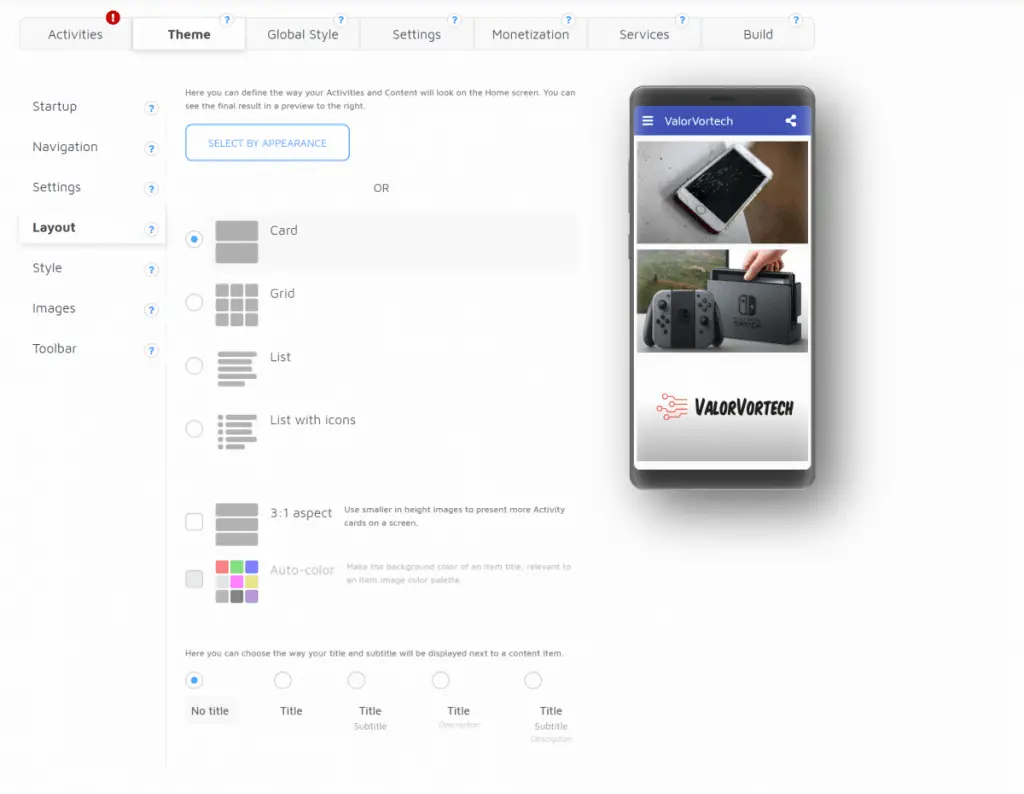 You can also change the aspect ratio here.
There weren't enough customizability options to make me feel overwhelmed, but just enough to customize it to my liking.
I started with a blank canvas and proceeded on adding the block "custom content" to add my blog post on How Long Will A Phone Last With A Cracked Screen.
I) Custom Content Block
The content editor for a custom page is extensive, and adding my blog post was a breeze, doing the headings was seamless and to-the-point, and you can even include the metadata property for keywords, author, and more.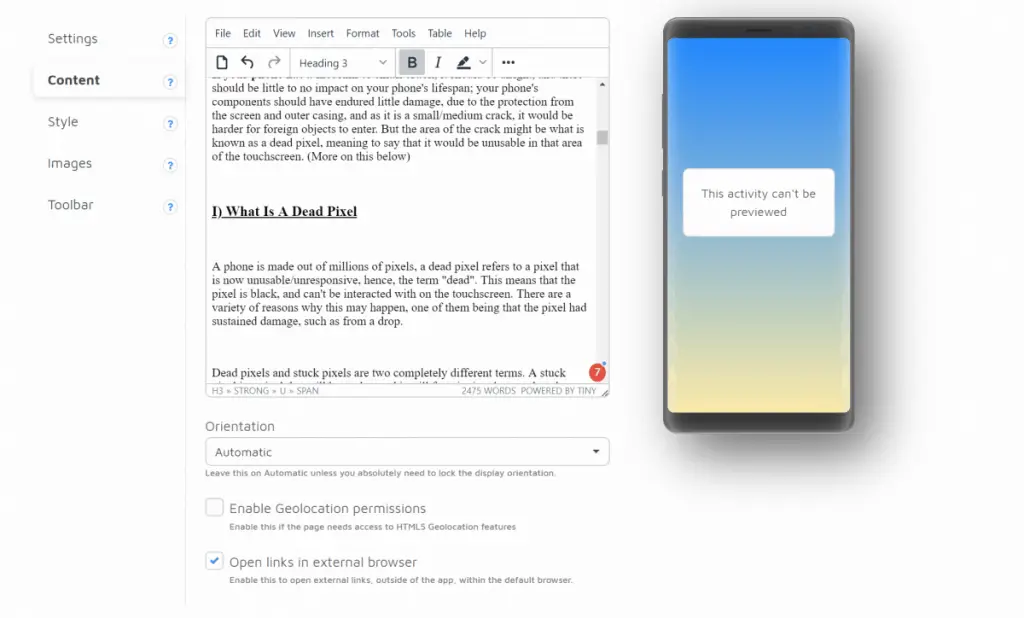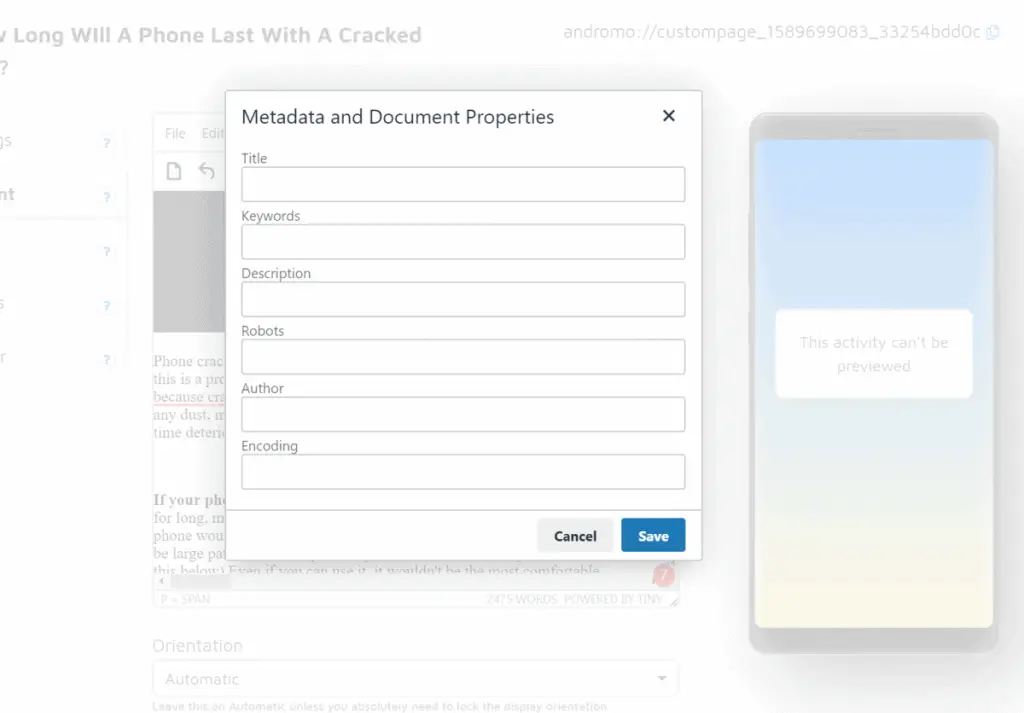 Until now, I was having no problems utilizing the app, till I wanted to include an image. There is no way of resizing images, which led to ugly proportions such as the one shown in the screenshot below.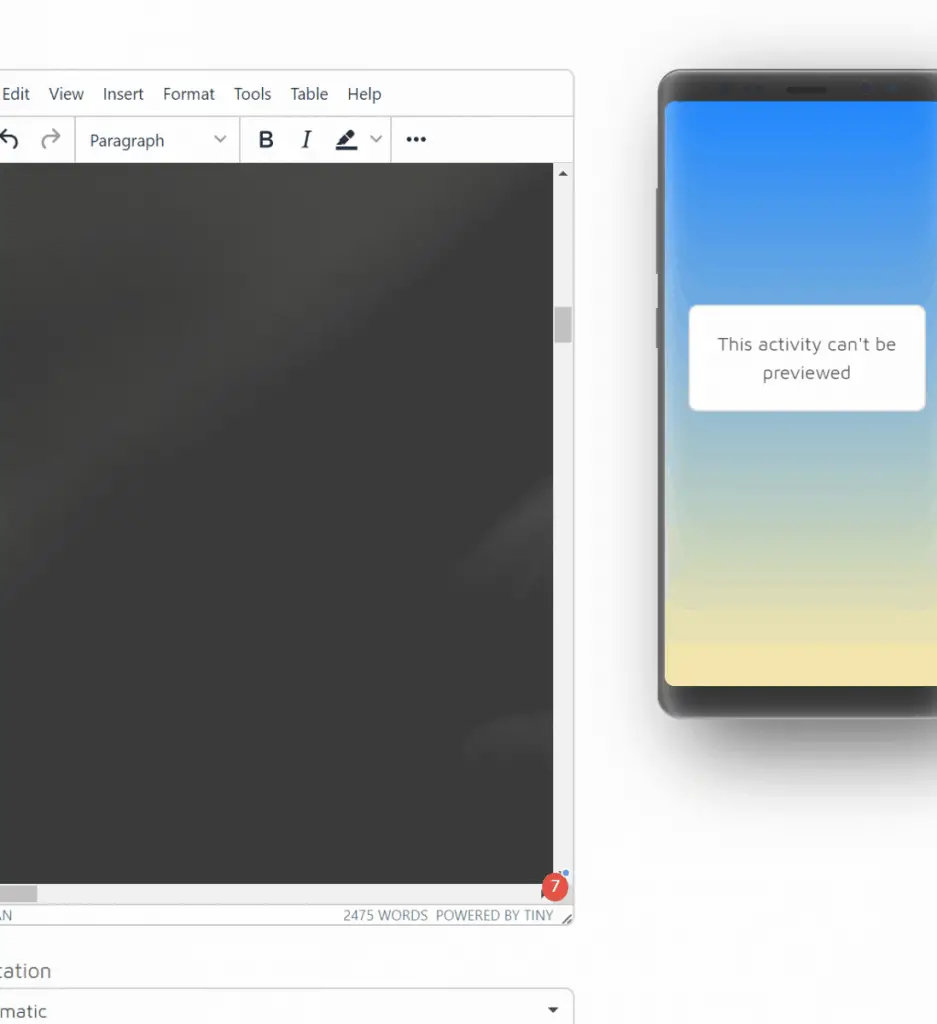 A possible workaround would be to resize the image beforehand, but being able to resize images inside the text editor would be a feature I prefer.
Quick Note: Within your app's homepage, if all the thumbnails/featured images are all blue, you'll need to go to the image setting and change it to "custom", where you can upload your own image. This was a problem I faced due to confusion.
II) Image Gallery Block
The image gallery block, is well, simple. All that is required is to add the images, and titles, as well as a short description if you wish.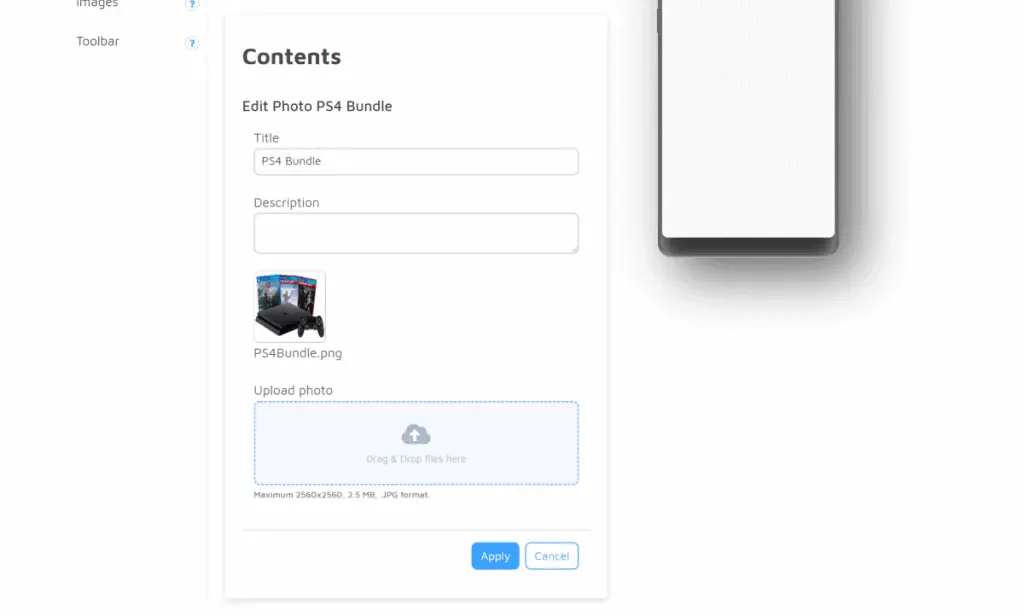 There's nothing much to say about the gallery, and I didn't face many issues, but once again, I would really prefer it if Andromo had a built-in image editor to crop and resize accordingly.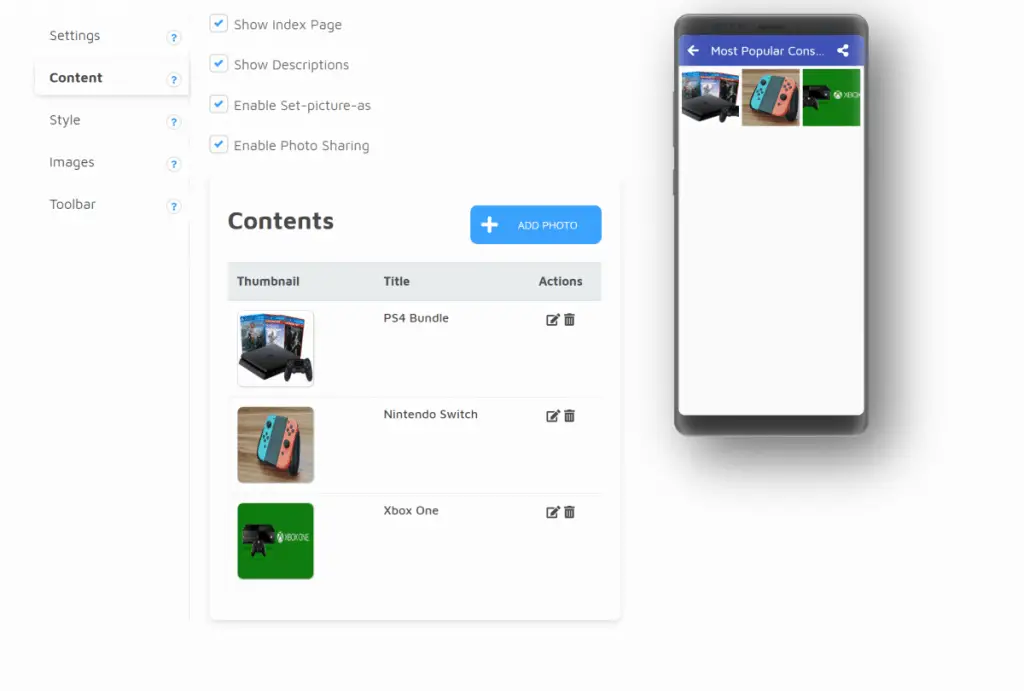 If you're building a wallpaper app, you'll be most likely only using this block, to add photos for users to choose & download from. I'm glad that Andromo took note of this and added an option for users to "set as".
III) Sound Blocks
There are three types of sound blocks you can integrate, being an audio player, podcast, and radio. This is great if you run a podcast, or if you're looking to create an app that plays music. If you're running a ringtone app, this app allows users to set the ringtone directly through the app as well.

IV) Other Blocks
There are a plethora of other blocks on Andromo to choose from. Some of the notable ones being about, and engagement blocks. They all function the same way being that you insert a link, or insert your content, and configure the images, and colors to your liking and save it. In other words, once you get the hang of it, you can build apps much more quickly. But at the same time, there really isn't much to change, meaning that all Andromo apps will mostly look the same.
There also is the HTML archive block which allows you to input your own code, but there won't be a need for Andromo if you've mastered coding an app yourself.
5) How Good Was My App?
Testing out my app was pretty easy. After clicking the build button, and waiting for a couple of moments, you can find the download link, like in the screenshot below.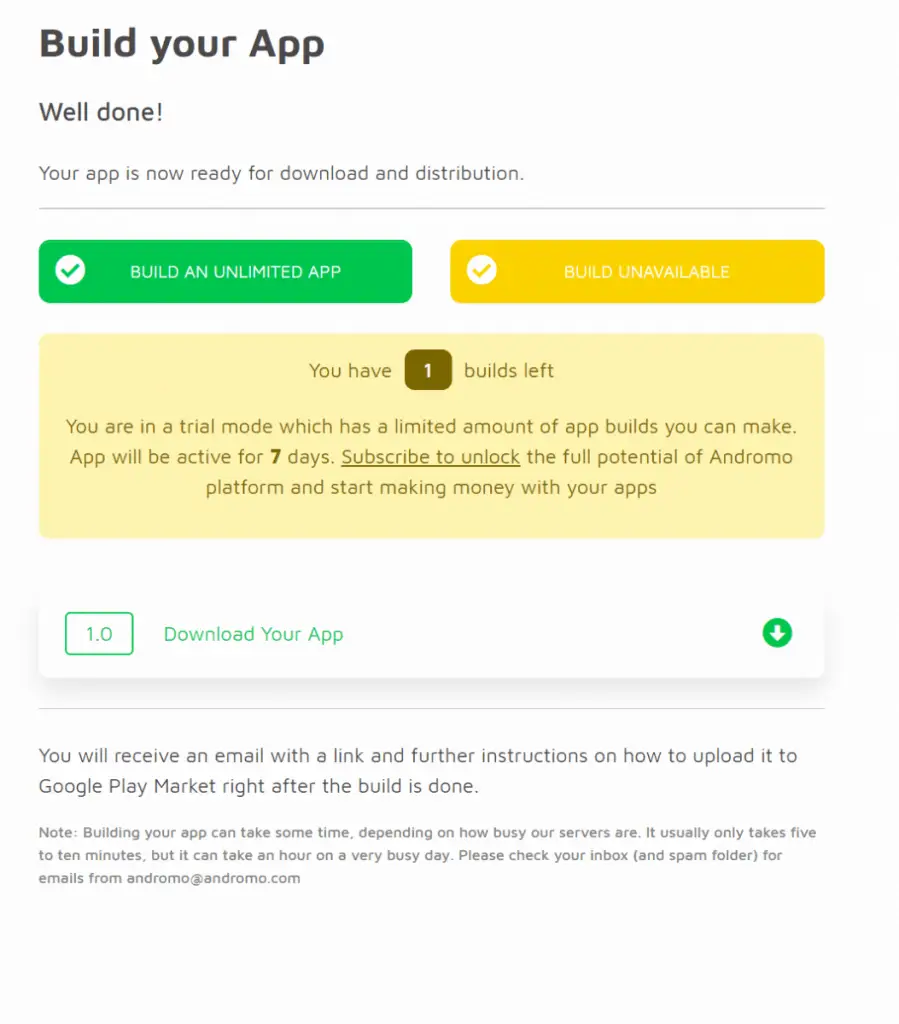 It gives you the .apk file which I then went on to download & to try on a mobile emulator, the one I used for this is Nox.
My app looks just as expected and doesn't have any bugs; functioning just as needed!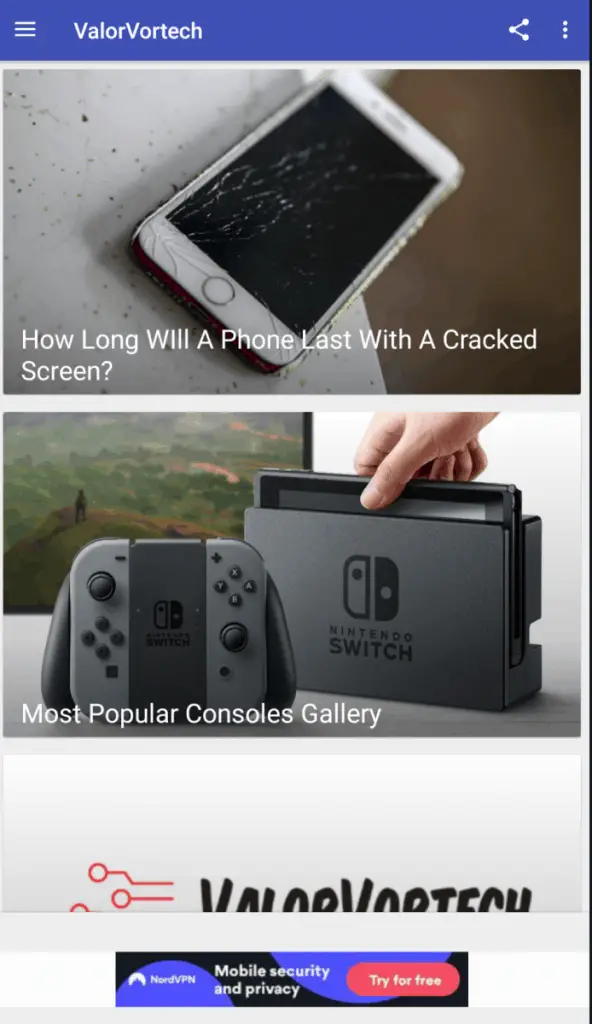 Upon going to the about page through the top right-hand menu, it displays the developer's name as well as the Andromo branding, which unfortunately can only be removed through the 21/Month (billed yearly) or the 28/Month (billed monthly) plan.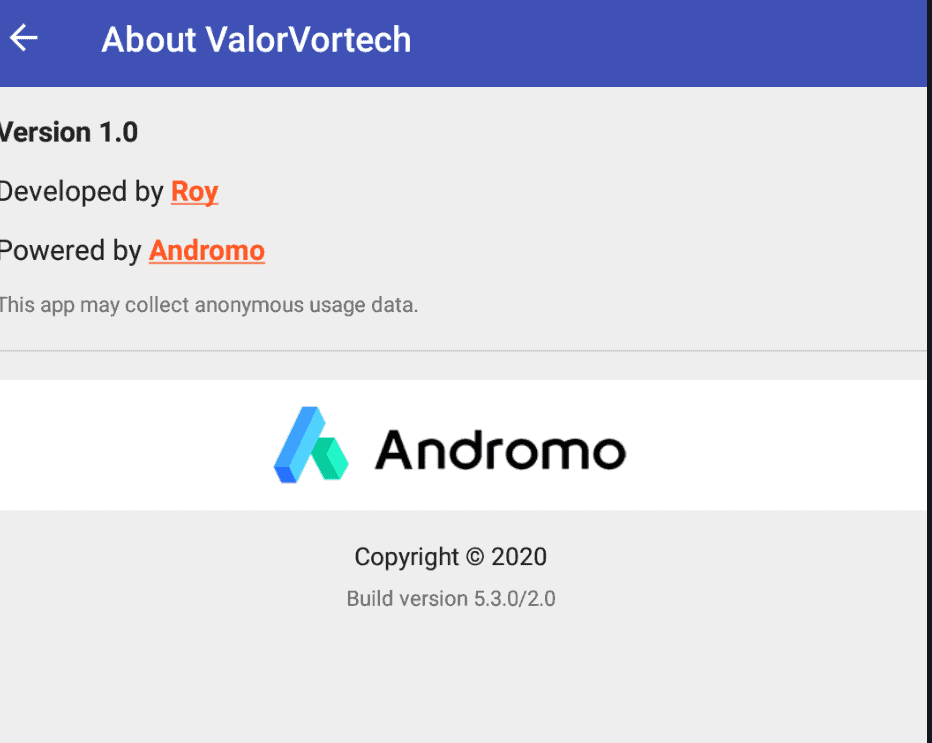 Down below is also an advertisement placed by Andromo, which you can't remove or earn from in the free version, which is reasonable.
6) Andromo Review Summary
I personally found that the Andromo interface was uncluttered. But, I really wished that there was more blocks for helping to create games, quizes and more activities that engage the user.
As mentioned above, although there is an option for adding HTML code that allows us to add games, that defeats the purpose of having an app maker.
There also needs to be more options for editing images on the platform itself.
All-in-all, if your desired app can be created within the 19 blocks shown, then go for it!
Can You Get Rich With Andromo?
Likewise, with most online businesses, it depends on how much content is in your app, and how dedicated you are to producing it. There is an abundance of wallpaper and ringtone apps on app stores, making it a very saturated market. If your app gets a few thousand installs, monetizing it would give you some passive income, but not much.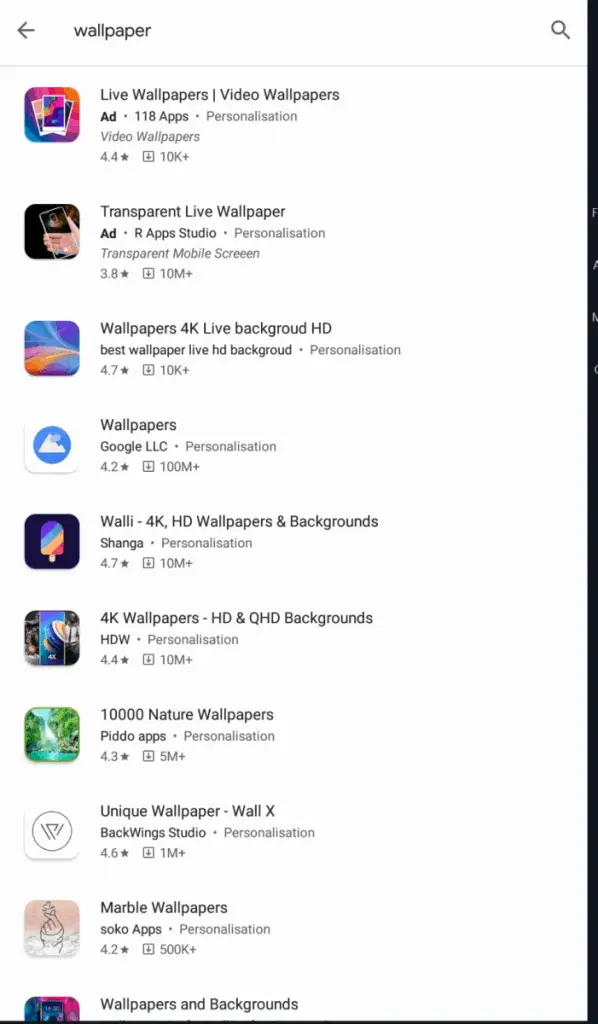 Do note that uploading an app on the Apple app store costs $99 annually while the Google Play Store charges a one-time fee of $25.
I do like how Andromo already has pre-made templates that allow you to quickly insert the files and get it up and going, but then again, you might encounter other similar apps that have the same exact layout.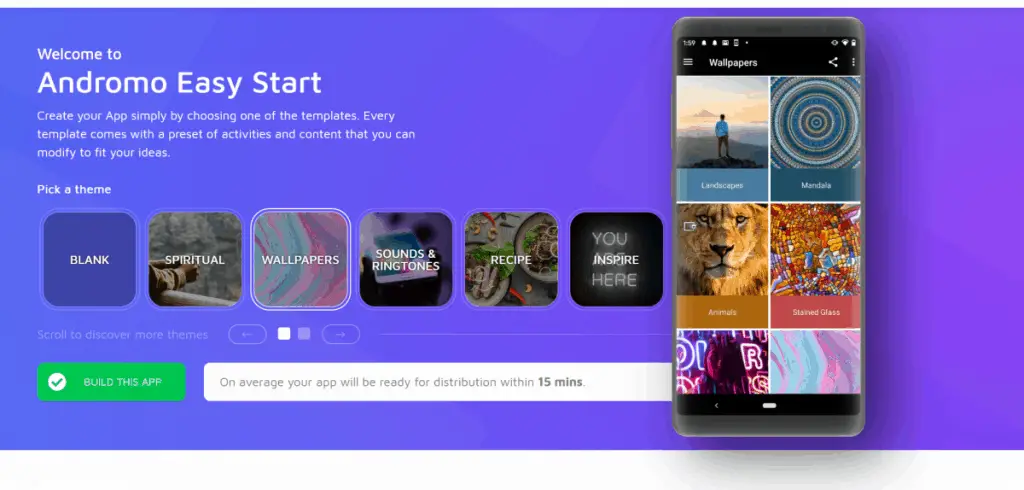 As seen in this Andromo forums post, there are definately some who have made a good income from this app, and some who struggle to get past a few thousand installs.
In fact, you can search com.andromo.dev on the Google Play Store to view which apps were created on the Andromo platform, and see which apps are the money makers as well as to get some inspiration. (As mentioned in this video by Andromo.)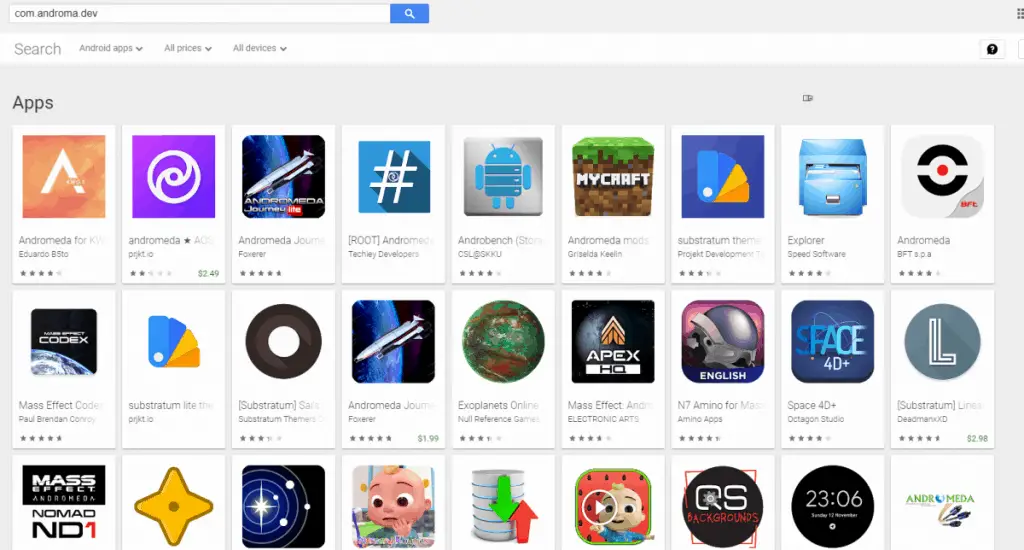 So I'll leave it up to you to see how much you can make!
Who Is Andromo For?
Andromo is for those that don't have a background in coding and don't want to learn it, but at the same time, want to make apps.
Keep in mind that the apps you'll be making won't be groundbreaking, even if you have an artistic and creative mind, there's only so far you can go with the options that Andromo gives you.
Yes, you can utilize the HTML block to add your own code, and create games and other blocks, but at that point, you might as well create it without Andromo.
I guess what I'm trying to say is that Andromo is for a specific set of people. Those that want to quickly place apps (such as wallpapers, podcast, and ringtone apps) on app stores, in hopes of monetizing them. Because it certainly is easy to use, seriously, I don't think you'll be stuck on an issue for more than 10 minutes!

Or you could be someone that is like me and has a blog, and maybe wants to publish content on an app as well. 
For example, if you're a local business and already have a website made, you can just easily copy & paste some of the content into Andromo and extend your online presence.
If you're someone that has a great idea for an app, maybe a game, or an online marketplace, you'll be much better off investing that time into learning how to code apps or hire a developer to do so.
As mentioned above, if your app fits within those 19 blocks, then you'll have no problem using this app, if not, you might want to look elsewhere.
To sum up, I'm not discouraging you from using the software, it certainly is one of the best, and does as advertised, but, there's only so much you can do with the 19 blocks given.
What I Like & Disliked About Andromo
What I Liked
Andromo is good at what it does, it is simple, easy to navigate, and you won't run into any issues
Monetizing is easy; "within a few clicks of a button" easy
Pre-made templates make it easy to start off
A 7-day free trial that doesn't require any payment inputs – was pretty surprised how much I was able to do in the free version
What I Disliked
The customizability options for the colors, icons, and images are good, but there aren't enough blocks to truly "make the app you want without code".
You need to get the top-tier subscription plan to remove the Andromo logo in the about page.
Andromo's Premium Subscription
There are currently two premium subscription plans for Andromo:
1) Andromo Starter
Price: $12/Month billed monthly or $8/Month billed yearly
Features:
Create Up To 50 Apps
Access to all activities
Place & Remove Ads
Sell your apps on platforms such as Google Play & Amazon
Keep your ad revenue
2) Andromo Pro
Price: $28/Month billed monthly or $21/Month billed yearly
Features:
Unlimited apps
Access to all activities
Place & Remove Ads
Sell your apps on platforms such as Google Play & Amazon
Keep your ad revenue
No Andromo logo on About screen
Use a custom Java package name
Links For Andromo